Winter Lily designer Sarah Jane Richards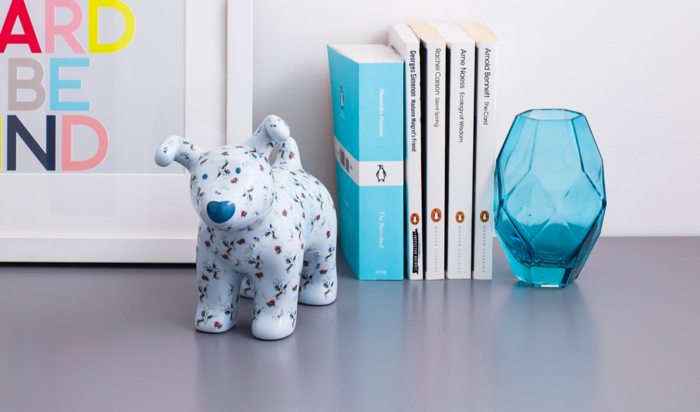 We talk to Snowdog artist Sarah Jane Richards about her artistic practice, Barbados, Aled Jones and the inspiration behind her Snowdog figurine Winter Lily.
Tell us where you're based and what you do
I'm a freelance artist based in Liverpool. My work includes painting for public, private, corporate, commercial and community commissions. I design, manage and facilitate workshops, art classes, art activities and events. My creative practice also includes drawing, sculptural works, printmaking and crafts.
What first got you into visual arts?
I have always enjoyed art and creating but never considered it a viable option for a career. In 2000 I lived and worked in an art gallery in Barbados run by an artist called Aziza, she really liked my work and encouraged me to create paintings whilst I was there. It was only then that I seriously considered the possibility of making a living from art. So when I came back to the UK I enrolled on a BTEC Art and Design Foundation course going onto University to study Fine Art Painting, Drawing and Printmaking.
What is your creative process from inception to completion?
I am inspired by the things I see and how I feel. I create lots of observational drawings and sketches while exploring materials and techniques. I then combine these aspects to create a finished piece of art. My style is varied and broad. I am just as happy with the challenges of painting trompe l'oeil as I am creating abstract realism, pattern design and duplication. I enjoy working within a 2d and 3d format and am always excited about learning new skills and techniques, working with new materials and developing new ideas.
Which Snowdogs did you design and what's the concept?
My Snowdogs are Winter Lily and Rosie Posy. I painted two of each design so that there could be one for Snowdogs by the Sea in Brighton and another for The Great North Snowdogs in Newcastle. The idea was to create floral patterns based on a winter bouquet and referencing vintage fabric design.
What's your earliest memory of The Snowman™ and The Snowdog?
I remember watching The Snowman at Christmas as a child. I was always thrilled to hear 'we're walking in the air' because Aled Jones went to the same school I did in Llandegfan on Anglesea and his mum, Mrs Jones taught me. I remember Aled once came back to Llandegfan in a helicopter and the whole school stood in a field to watch the helicopter arrive – it was very exciting!
Do you have a favourite Snowdog and why?
Thats a hard one, so many hours of fantastic creative skill has gone into these sculptures… but I would have to say Roodle, the hairiest and most snugglable pooch of them all! I have always loved the original artwork of The Snowman and the gorgeous drawings of The Snowman™ and The Snowdog. Such beautiful colours and lovely use of space – so I would have to say Arthur is my favourite.
What is the number one piece of advice you would like to tell new artists?
When the going gets tough, keep going – you are living the dream!
—–
Great advice by Sarah Jane Richards, the Winter Lily Snowdog figurine is available to buy in our online shop and if you like Winter Lily then take a look at Sarah Jane Richards website for more.