Starry Night Snowdog – Snowdog Collectors Club Design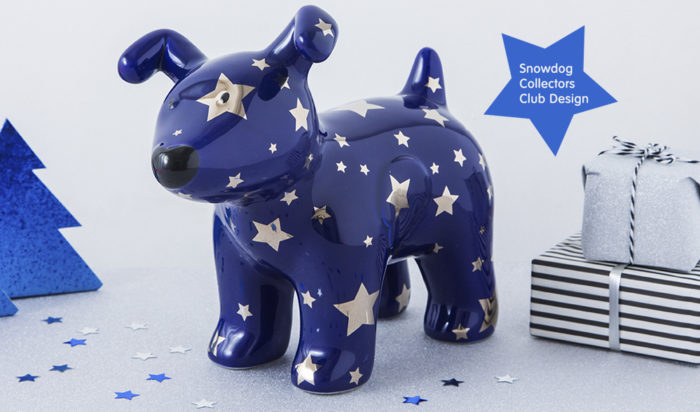 We're seeing Stars!
For the first time in Wild in Art history Snowdog Collectors Club members were invited to get involved in the design and direction of The Snowdog figurine range by submitting ideas for a new Snowdog to join the pack.
Meet 'Starry Night' the winning Snowdog Collectors Club design. Starry Night has been produced as a figurine and sculpture launched at Snowdogs: Tails in Wales in September 2017. Congratulations to Benjamin Fowler, a year 5 pupil at St. Luke's Primary School and designer Heather Penten, who both submitted designs inspired by the night sky. You're both stars in our eyes!
Inspired by the Night Sky
Benjamin Fowler and Heather Penten submitted designs that were inspired by The Snowman and The Snowdog's adventures through the night sky. Proving not only do great minds think alike but the magic of The Snowman and The Snowdog speaks to people of all ages.
Yes, that's right, Starry Night also comes with a knitted pair of socks to keep his ears warm.
Over 1,000 Snowdog Collectors were invited to take part
Take a look at the competition stats.
1000+ Collectors Club members were invited to take part in the design competition.
45 design submissions were received by Wild in Art between 1 – 28 February 2017.
7 people on the judging panel; from designers to marketing, manufacturers to event partners and Penguin Licensing.
2 deserving winners!
We're delighted to introduce the 'Starry Night' Snowdog to the pack. We hope you love him as much as we do. We'd love to see your photos, selfies and shelfies, tag us on Facebook, Twitter or Instagram using the hashtags #StarryNightSnowdog and #SnowdogShelfie.
Visit 'Starry Night' on the Snowdogs: Tails in Wales art trail in Cardiff between 16 September – 28 November. Get your paws on your very own 'Starry Night' figurine online here: Starry Night Snowdog Figurine and in selected Ty Hafan stores in Cardiff from November 2017.
Join the free Snowdog Collectors Club
If you'd like to stay in touch with Snowdog Art Trails HQ for paw-some offers, competitions, exclusive giveaways and news sign up to the FREE Snowdog Collectors Club.