Snowdogs: Tails in Wales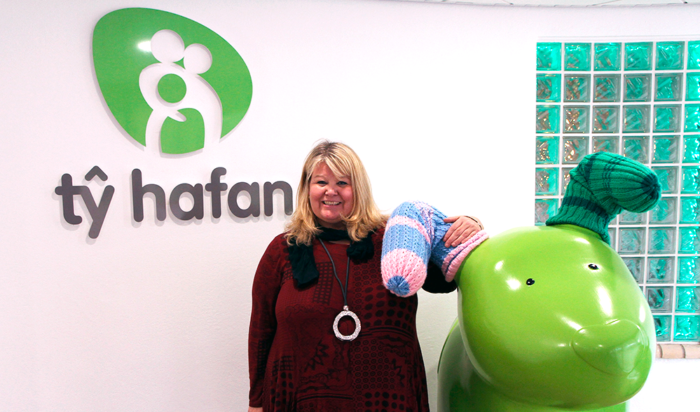 Snowdogs: Tails in Wales arrives in Cardiff this autumn. We talk to our event partners Tŷ Hafan, about the children's hospice and the magic of the Snowdog Art Trails.
IMAGE: Sara Leigh Webber, General Manager, Marketing, Communications and Events at Tŷ Hafan, the children's hospice in Wales.
What does the hospice do and where are you based?
Tŷ Hafan is based in the idyllic village of Sully, in the Vale of Glamorgan. Tŷ Hafan is one of the UK's leading paediatric palliative care charities and offers care to children and support for their families, throughout Wales.
If you think this means we simply provide a place where children can come to die, you couldn't be further from the truth. We offer comfort, care and support to life-limited children, young people and their families in the hospice, in the community and in their home so they can make the most of the time they have left together.
We allow parents and carers to relax and recharge their batteries. And we make sure the needs of brothers and sisters are never forgotten.
What do you love about your job?
My job is so amazingly diverse, I couldn't even write my own job description. It changes daily! I manage a fantastic team, who deliver over half a million pounds worth of events every year, as well as delivering the marketing and communication for the charity. I am very privileged to be able to spend quality time with our families, which is not only a great leveller, but enables us all to see what a difference we can make.
Snowdogs: Tails in Wales has energized Income Generation and Marketing, it's been a great collaborative effort between all the departments. It's the first project that has sat across all departments at Tŷ Hafan, and has been a real team builder. Working for Tŷ Hafan allows me personally to make a difference.
How did you get involved with Wild in Art?
Wild in Art contacted us, and as soon as we heard all about the project we were sold! We spent a long time researching and presenting to our Board of Trustees to ensure it fitted with the charities objectives. All our hard work paid off and last September we finally went live.
What's your earliest memory of The Snowman and The Snowdog?
To be completely honest I had not seen the film before Wild in Art approached us about the campaign, but I was aware of how loved it was by children and families. I watched it for the first time last March and could definitely see the appeal – it's a lovely gentle story with beautiful animation, but it also deals with some real life issues in an understated way. It fits perfectly with a children's hospice. I will confess to watching it again at Christmas, its has such a feel good factor.
Do you have a favourite Snowdog figurine and why?
Well I carry around Roodle with me everywhere I go! Yes, I know, I know, I have become very attached to my figurines! On a recent meeting at the WRU, on being asked to give an overview of the project, I simply pulled Roodle out of my coat pocket, much to the amusement of my colleagues. I do have a soft spot for Sparky too, it's the sparkly ears!
What does the hospice hope to achieve from the Snowdog Art Trail?
When we first signed up to do the trail, we were looking at using the project as a Brand Awareness Campaign. We have a very strong brand in South Wales, as the most recognised Welsh Charity. We are always looking at strengthen our position. However throughout the planning stages it has become increasingly clear that this is going to be much more than a awareness project. It gives us a fantastic opportunity to generate income, reach new audiences, engage in partnership working and increase awareness of the hospice's work for life-limited children and families across Wales. It's also great to be part of a mass participation event that is already creating a buzz of excitement and anticipation across the region.
How do donations benefit the hospice?
We need more than £4million every year to keep our hospice services running and it costs £10,958 a day to provide care and support to children and families, so every donation, big or small, is hugely appreciated here. Our work is not restricted to end of life care – our teams focus on taking the pressures away from parents and carers so they can concentrate on family life and building precious memories that last a lifetime. Although we are primarily based at the hospice in Sully, our staff also visit families in their homes, hospitals and schools across Wales. Our emphasis is on making sure a short life is a full life. At Tŷ Hafan we receive a very small amount of statutory funding, only around 4%. Which means that we rely heavily on our supporters for over 95%.
How can people get involved and support the hospice?
There are many ways for people to get involved. We have a huge range of different events throughout the year, from the Rainbow Run to the China Trek. But being a fundraiser and becoming part of Team Tŷ Hafan does not mean you have to run a marathon or climb a mountain to raise money – just do what you do best, whether that's baking, playing our lottery, knitting socks or mountaineering. And we also have lots of opportunities to volunteer at events, at the hospice or in our shops.
Snowdogs: Tails in Wales is a great way to find out more about us and the work we do, so we're looking forward to meeting everyone on the trail this autumn!
For more information you can visit www.tyhafan.org or www.snowdogstailsin.wales