Ashford Snowdogs Leave a Lasting Legacy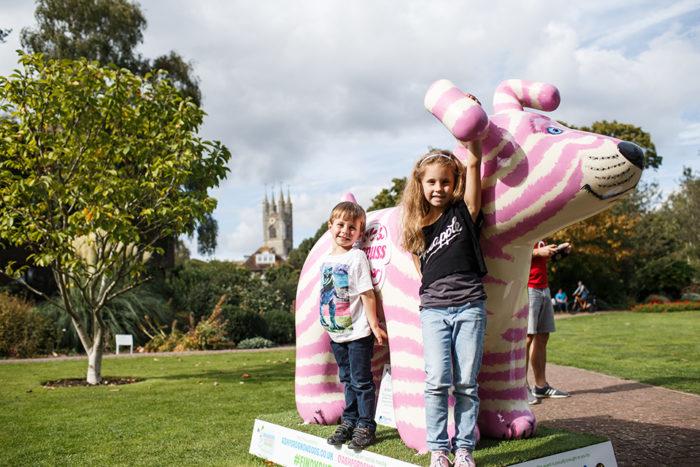 The fourth Snowdog Art Trail since 2016, Snowdogs Discover Ashford was delivered by event partners Ashford Borough Council in aid of Pilgrims Hospices. The trail explored themes of life, loss, fun, friendship, companionship, strength and kindness: a story told at Pilgrims Hospices everyday.
We caught up with Project Manager Chris Dixon to find out more about the town's reaction to Snowdogs Discover Ashford.
Do you think the Snowdogs have left a lasting memory?
Without a shadow of a doubt this project has left a lasting memory, and a legacy for the town.  For Ashford to follow in the footsteps (or paw prints) of the big city trails such as Newcastle, Brighton and Cardiff, and generate comparable amounts of media profile, health and wellbeing statistics, community benefits and economic outcomes – has been incredible, and exceeded all expectations.
What was your most memorable experience from Snowdogs Discover Ashford?
Throughout the lifespan of the project, for us, it has been the first sponsors coming on board; the first artists submitting designs; the first school on board; the first delivery of the dogs; the first one painted; the first ones being delivered on site; and ultimately the first auction bidder raising their paddle!  With all projects of this scale, there are a lot of unknowns and worries about whether it would generate the desired interest from others.  Therefore, every "first" at every milestone along the way was a sign of validation – a sign that people shared our vision, passion, were keen to be involved and, gave us confidence that this could actually work!!!
What impact do you think it had on Ashford?
We can only pass on what we have heard from others.  Therefore, we know from hundreds of emails sent in, social media, conversations, and overhearing people at the bus stop etc, that the story of the Ashford Snowdogs has quite literarily changed people's perceptions of the town; has touched the hearts of so many individuals; and has been used as a tool in so many different ways – from putting Ashford on the map, supporting artists in their careers, through to helping individuals through some very tough and challenging times.
What's next for Ashford?
First up, there are a lot of doggies in the back of our vans being delivered to all of the successful private auction bidders.  This project was also intended to highlight all of the amazing regeneration happening around the town, so naturally we are also busy installing some for our forthcoming opening ceremonies, launch events and special Christmas celebrations.  Thanks to the generosity of our auction bidders, nine Snowdogs are already back on public display!
Where can people purchase memorabilia in Ashford?
Ashford Snowdog merchandise is still available to buy from the Ashford Visitor Information Centre.  It is also the permanent location for fans' favourite Snowbrador, with his flocked coat and cheeky sticky out tongue!  So, definitely worth a visit!
Do you have a favourite design and why?
The favourite has to be Mr Doodle's Doodle Dog, sponsored by Motorline. It is an amazing design in itself, doodled in public at County Square Shopping Centre, it has received millions of likes and views around the world on social media and generated that wow moment at auction when it went for £15,000.
Find out more about Snowdogs Discover Ashford and sign up to our free Snowdog Collectors Club to stay up to date with the latest Snowdog news and be the first to find out about our future Snowdog Art Trails.