Snowdog Farewell Events – Book Your Tickets!
Make the most of your final chance to visit the Snowdog Art Trails at their festive Snowdog farewell events in Tyne and Wear and Brighton this Decem

ber.

All good things come to an end and our Snowdog Art Trails are going out with a festive farewell before the giant Snowdog sculptures are auctioned to raise money for St Oswald's Hospice in Newcastle upon Tyne and Martlets Hospice in Brighton.
Great North Snowdogs Farewell Weekend in Tyne and Wear
Great North Snowdogs will draw to a close on Sunday 20 November, so the pooches can be fully 'groomed' ahead of the auction, on Tuesday 6 December, at Sage Gateshead. Snowdog lovers will get one last chance to see all 61 Snowdogs at a special, Snowdog Farewell Event to be held between Friday 2 and Sunday 4 December 2016 at Gateshead International Stadium.
The event will also a feature a Christmas market with stalls selling gifts and Snowdog merchandise, along with the chance to win a car in the St Oswald's Hospice Annual Raffle!
Tickets for the Farewell Event cost £3 each plus VAT and booking fee.
Book online: www.greatnorthsnowdogs.co.uk/farewell-tickets
All profits from the Farewell Event will support the vital work of St Oswald's Children's Hospice.
For more information please visit: Great North Snowdogs
Snowdogs by the Sea Festive Farewell in Brighton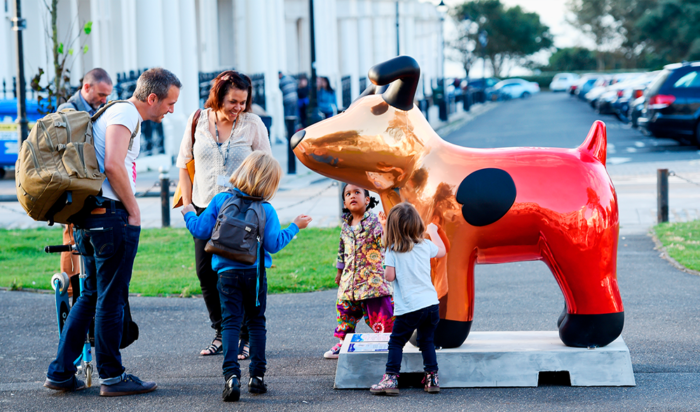 The Snowdogs by the Sea Art Trail will be live until Sunday 27 November. The Snowdog sculptures will then be groomed and made ready for a very special Festive Farewell event at Brighton Dome Corn Exchange on Sunday 4 December and Monday 5 December.
Thousands of people, visitors and residents alike, have flocked to Brighton & Hove to see the Snowdogs out on the 10-week art trail but this will be the first and only time the beautiful pack of pooches and their pups can be seen together.
Tickets are £5 per adult and £3 per child, under 2's are free (booking fees may apply).
Timed tickets are on sale via Brighton Dome.
Book by phone: 01273 709709
Box Office: 
Brighton Dome Tickets, 29 New Road, Brighton BN1 1UG
Proceeds from tickets sales will be donated to Martlets Hospice.
For more information please visit: Snowdogs by the Sea