Snowdog Art Trails raise £867,000 for charity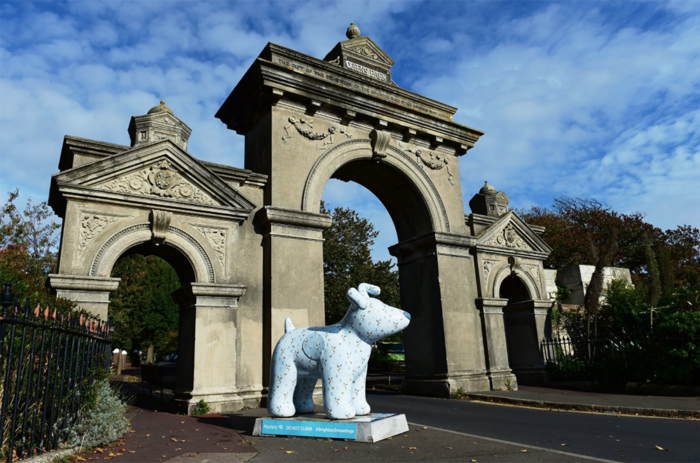 December is the perfect time to paws and reflect on the year gone by. As 2018 draws to a close, we want to say a huge thank you to everyone who has taken part in Snowdog Art Trails over the past three years.
We especially want to thank the generous bidders who have bought a Snowdog sculpture at one of our charity auctions and given them a new fur-ever home.
This year, after a hugely successful 10-week public trail, Ashford's Snowdog and Snowpup sculptures raised a staggering £142,000 for Pilgrims Hospices at the charity auction. Some of the Snowdog sculptures from Ashford Snowdogs, including the Snowbrador, Gizmo and Sparky, are available to buy as figurines and Christmas decorations in our online shop.
Last year, 43 giant Snowdog sculptures were unleashed across Cardiff and the Vale for our first ever Snowdog Art Trail in Wales and one of the biggest ever public art events to take place in the capital. The sculptures were on display for 10 weeks before going to auction, where they raised £125,000 for children's hospice Tŷ Hafan.
In 2016 we saw 60 giant Snowdogs take to the streets as part of Great North Snowdogs in Tyne and Wear. They were joined by another 45 sculptures in Brighton as part of Snowdogs by the Sea. Partnering with local charities in both regions, the two Snowdog Art Trails raised a combined £600,000 for St Oswald's Hospice (Great North Snowdogs) and Martlets Hospice (Snowdogs by the Sea).
Since 2016, Snowdog Art Trails has raised an incredible £867,000 to help local charities through the sale of our beautifully decorated Snowdog sculptures.
Become a member of our Collectors Club to stay up to date with the latest Snowdog news and be the first to find out about our future Snowdog Art Trails.