Mini Snowdog Art Trail & Exhibition at Nymans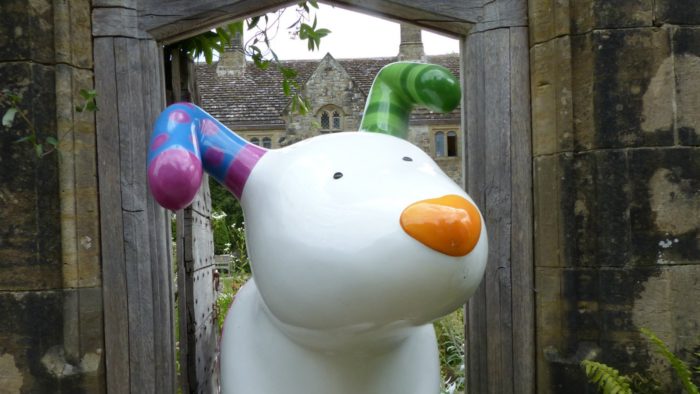 This year marks the 40th anniversary of the publication of The Snowman™, written and illustrated by Sussex author Raymond Briggs. To celebrate, Nymans – one of the National Trust's premier gardens, turns to The Snowman™ and The Snowdog for festive inspiration.
Nymans was a country retreat for the creative Messel family, and has views stretching out across the Sussex Weald. This Christmas, The Snowman™ and The Snowdog will be dropping by with an exhibition of over 40 illustrations from the film and a mini Snowdog Art Trail with giant Snowdog sculptures to be found.
Mini Snowdog Art Trail – Snowdogs in the Garden
From Saturday 1 December until Tuesday 2 January 2019, a selection of giant Snowdog sculptures with designs taken from the pup-ular Snowdog Art Trails will be on display in the garden. Meet The Snowdog™ Classic and friends while exploring the beautiful garden set around a romantic house and ruins. Discover hidden corners through stone archways, walk along tree-lined avenues while surrounded by boundless countryside. Don't let your furry friends miss out – dogs are welcome in the garden while The Snowman™ and The Snowdog exhibition is running.
The Snowman™ and The Snowdog Exhibition
From Saturday 17 November until Wednesday 2 January 2019 Nymans will be hosting an exhibition of over 4o illustrations from the film, following the magical adventures of The Snowman™ and The Snowdog. As well as behind-the-scenes drawings, preparatory sketches and artwork used in the film you'll find simple activities for children to enjoy.  Find out about the creative process that brought The Snowman™ back to life for a new generation of viewers and see how the animators drew faces and selected their colour palette.
More info and opening times are available on the Nymans website: www.nationaltrust.org.uk/nymans