Martlets Hospice & Snowdogs by the Sea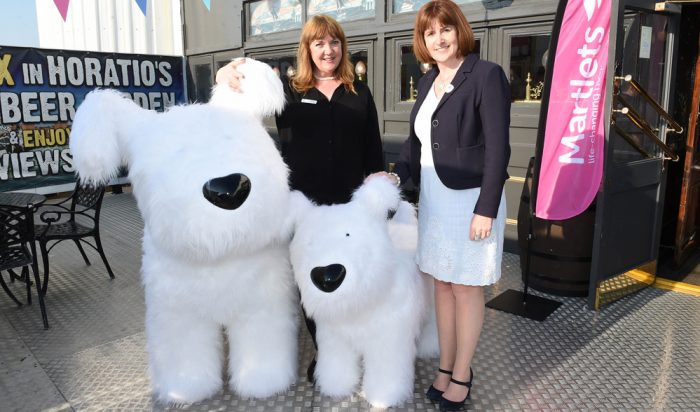 We talk to Sally Brighton, Director of Income Generation at Martlets Hospice about the impact of the Snowdogs by the Sea Art Trail.
Image: L-R Imelda Glackin CEO and Sally Brighton featuring Roodle the Snowdog, Brighton Pier.
What does the hospice do and where are you based?
We care for people living with a terminal illness in and around Brighton and Hove.
What do you love about your job?
No two days are ever the same and it's great to see the amount of support we get from the local community to raise funds for our work.
How did you get involved with Wild in Art?
Charlie Langhorne from Wild in Art approached Martlets to see if we would host an art trail in his local city of Brighton and frankly his passion was hard to ignore! Wild in Art bring huge expertise to what is a daunting project. They are always on hand to help and it's great having Charlie so near, especially when he can help move giant Snowdogs around for us!
What's your earliest memory of  
The Snowman™ and The Snowdog
?
I loved the original film (The Snowman) and learned to play 'Walking in the Air' on the piano! I couldn't wait to show The Snowman and the Snowdog to my own children many years later. They loved it and so now it comes out every year even though they are teenagers now!
Do you have a favourite Snowdog and why?
We were so pleased to be able to have a Martlets Snowdog called Marty on the trail, so that's got to be my favourite I guess. But it's like trying to pick a favourite child, I just can't! They are all so amazing! I love The Snowbrador figurine, it's that cheeky tongue!
What does the Hospice hope to achieve from the Snowdog Art Trail?
It's not just about raising money but of course, that is paramount. But more than that this has been a great chance to connect with our community and show the world that we are more than a hospice, we are challenging people's perceptions of hospice care and hopefully this is a way to show that we are here to help people live well too. It has helped us increase our reach into communities we would not have worked with before and that's a great achievement and a legacy for the future.
What's been the best part of the Snowdog Art Trail so far?
Every time we see the public interact with the Snowdogs. It's great to see the joy they bring to everyone. The Schools trail launched on Sunday and the kids love it! This reaches across all generations and makes everyone smile.
How do donations benefit the hospice?
The funds we raise from this project will enable us to reach more people and provide even more life-changing hospice care. The income will be spent on many things, such as nurses salaries, vital equipment and clinical and therapeutic services.
How much does the hospice rely on donations?
We rely on the public to fund over 70% of our work. We couldn't operate without the support of local people.
How can people get involved and support the hospice?
We welcome people getting involved in any way that suits them. Some people volunteer their time either in the hospice or in fundraising or in our shops. We also run events and fundraising initiatives to raise money and these are great fun and there's something for everyone.
We have 9 shops that sell donated goods including clothing and furniture. We have a weekly lottery, and also accept donations and also encourage people to remember us in their Will.
To find out how to get involved just check out our website www.themartlets.org.uk