What Snowdogs mean to St Oswald's Hospice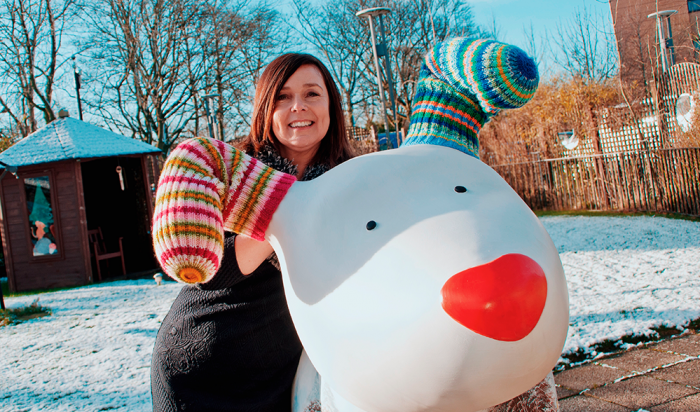 We talk to Jane Hogan, Great North Snowdogs Project Lead about the Great North Snowdogs Art Trail and the moment St Oswald's Hospice knew this was going to be a very special project.
What's your name and what's your role?
Jane Hogan, Great North Snowdogs Project Lead and Business Development Manager
What does the hospice do and where are you based?
I am based at St Oswald's Hospice, which is located in Newcastle upon Tyne. The Hospice cares for adults, young people and children with life limiting conditions, from across the north east. Local adults benefit from a wide range of services, including day care, outpatient clinics, an inpatient unit and community outreach. The Children and Young Adults Service provides short breaks to young people with progressive, life-shortening conditions. Their purpose-built facility includes a sensory room, play and music therapy rooms so that children and young people are able to do 'normal' everyday things. Our expert team includes doctors, nurses, social workers, chaplaincy, bereavement support workers, physiotherapists, occupational therapists and complementary therapists.
What do you love about your job?
The sheer variety of the work! Over the last year, Great North Snowdogs has been my main project and no one day has been the same. I have worked with people from a huge range of organisations, used an unpawlievable amount of canine puns and posed for photos with giant dogs on a daily basis. It's also pretty amazing to be able to work for an organisation that provides such a vital service and is so close to many people's hearts.
I feel privileged to be able to make a difference, no matter how small and that is what keeps our whole team going.
How did you get involved with Wild in Art?
Wild in Art approached us back in 2014 about working together on an Art trail. After many meetings and gathering of information, we decided it was too good an opportunity to miss. We are delighted to have been chosen to host the North East's very first Wild in Art trail.
What other Wild in Art events have you seen?
I visited The Big Herd in Sheffield with some of the Great North Snowdog sponsors and we were all very impressed with the varied designs and the reception the sculptures were getting. It was clear to see how the people of Sheffield had taken the elephant sculptures into their hearts and the sense of excitement and pride was quite infectious. It made us all feel very excited for our own trail!
What's your earliest memory of The Snowman and The Snowdog?
Before working on the project, I hadn't seen the film, The Snowman and The Snowdog. I was familiar with The Snowman and was aware of the characters, but it wasn't until I was preparing to pitch the project to our board that I watched the film though for the first time. I then told the story of the little Snowdog with the socks for ears to Senior Management and Board Members and explained just
how beautifully it ties in with our Children's Hospices ethos of making every moment count and creating magical memories and special moments. It was then we all knew that this was going to be a very special project.
Do you have a favourite Snowdog and why?
I couldn't pawsibly say – they are all my babies! We do love Arthur though. He was the first Snowdog to be created and a local artist and friend of the Hospice, Jeff Rowland, decorated him. Arthur is named after Jeff's late father, who was a patient here at the Hospice.
Do you have a favourite Snowdog figurine and why?
I'm quite drawn to the sparkly brilliance of Sparky, but Snowbrador and his bright red tongue is another favourite.
What does the Hospice hope to achieve from the Snowdog Art Trail?
Firstly, we want everyone to love our beautiful pups as much as we do! And for people of all ages from the north east and beyond, to enjoy hunting them out, ticking them off and sharing #Snowfies of their favourites. In terms of St Oswald's, we have been able to connect with business and organisations we would have really struggled to reach and have built strong relationships which will hopefully last into the future. We also hope to raise the profile of our Children's Hospice in Sunderland and South Tyneside, where we are not so well known. And finally, we hope that the sale of our big Snowdogs at Auction in December will raise funds to help support our work into the future.
What's been the best part of the Snowdog Art Trail so far?
We hosted our preview event for artists and sponsors in September, just before we launched our trail, and it was the first time we had seen all 60 big Snowdogs together in open place. It was just fantastic watching the reactions of the guests as they stepped into the space and saw the pack for the first time.
There were lots of gasps, whoops and cheers. It was quite emotional to see how well received they all were.
How do donations benefit the hospice?
Every penny donated to us helps us to continue our vital work in our local community. We care for over 2,000 adults, children and young people each year and rely on the generosity of local business and people to help support our work through voluntary giving and legacies.
How much does the hospice rely on donations?
St Oswald's is a self-financing, voluntary organisation.  With annual running costs of more than £11 million, we rely heavily on support from the community.  The Hospice makes no charge for its services – ensuring care is available to everyone who needs it.
How can people get involved and support the hospice?
There are so many ways to support the Hospice! We have loads of exciting things happening around Great North Snowdogs, particularly for children and schools. We also are planning a special Farewell Weekend in December so everyone can say a proper goodbye to our pooches. Visit www.greatnorthsnowdogs.co.uk to find out more!
St Oswald's organises a huge amount of events and runs campaigns all year round, so there is something to appeal to everyone. Check out www.stoswaldsuk.org/get-involved