Meet Rhiannon Roberts the artist behind the Enfys Snowdog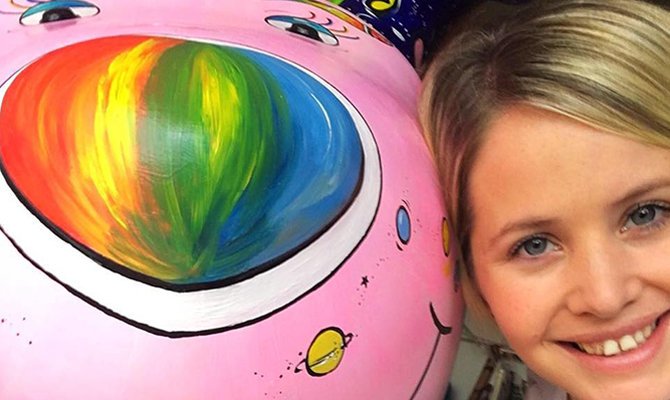 Rhiannon Roberts is a welsh artist living and working in Cardiff. Her colourful designs capture the landscape and vibrancy of Cardiff life. Her Enfys Snowdog is also proving pup-ular with Snowdogs: Tails in Wales visitors retaining the top spot on the art trail app for 9 consecutive weeks.
Where are you based and what do you do
My name is Rhiannon Roberts. I am the owner of Rhiannon Art Ltd. I'm originally from a small village called Ciliau Aeron in West Wales, but now live in Cardiff Bay. I have a degree in Psychology and am a self taught artist. I paint Welsh scenes in a quirky and colourful way. I work with watercolour and acrylic paints to create magical and mystical Welsh worlds! I sell original work, but also turn the designs into a range of unique products such as coasters, placemats, tea towels, prints, cards, calendars and much more!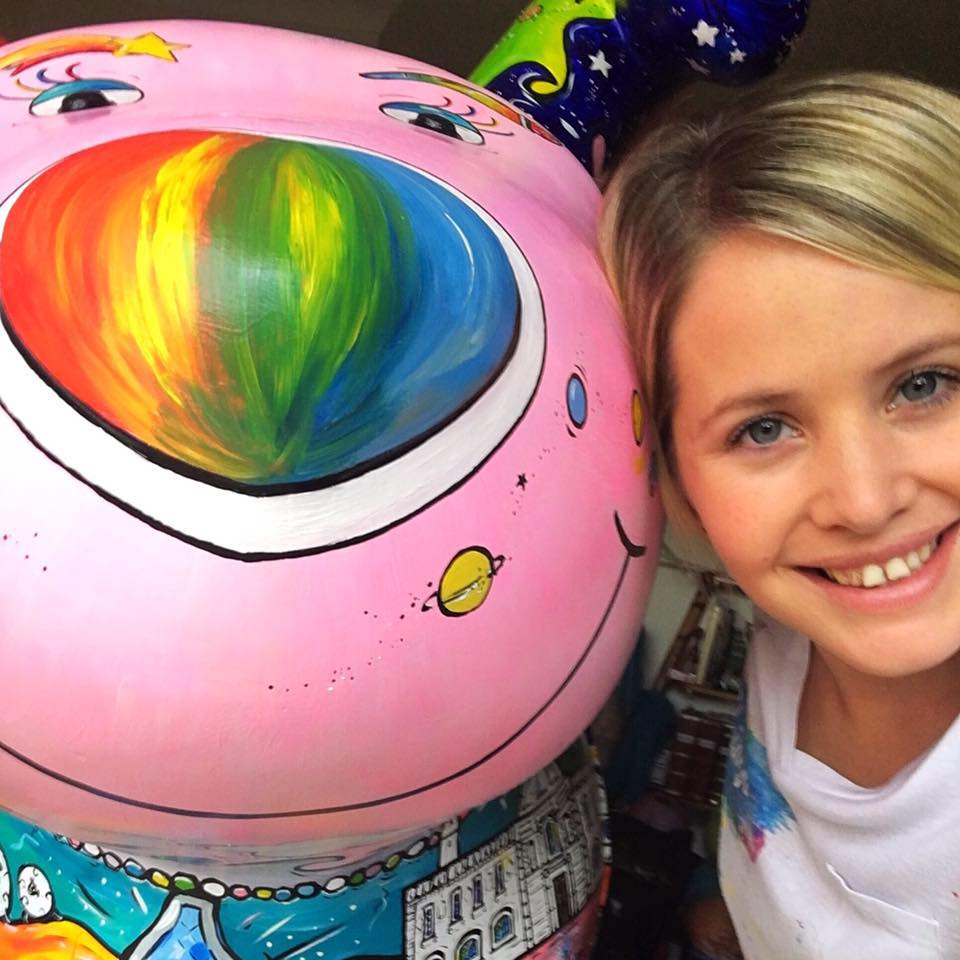 How did you get into visual arts?
I have always loved painting, ever since I was a little girl. After completing my degree in psychology in 2010, I decided to move back to West Wales to focus on building an art business, as I knew that this is what I wanted to do. I live 4 miles away from Aberaeron, and grew up on the coast. Aberaeron is unique in that it is full of colourful houses. Growing up in such a colourful little town inspired me to create bright and vibrant work. There are so many inspirational places on the West Wales coast, and I feel very lucky to have grown up in the area. My family and friends inspire me as well as the Welsh scenery.
What is your creative process?
I normally visit a place, take photos, and then start sketching from my flat in Cardiff Bay. I sketch the buildings and landscape in a realistic way, and then I add the element of fantasy by bringing in some quirky items to the piece such as mad mushrooms, floating hearts, love boats and flying flowers! I use bright colours to make the design stand out and then outline the whole design with a black pen or black paint. Every piece I create is positive and uplifting. I hope that they make people feel happy.
How did you get involved with Wild in Art
I submitted a design for the Snowdogs: Tails in Wales project and the Glee Club decided to sponsor me. Not only is it a great chance to raise money for Tŷ Hafan, but the project will also inspire so many people across the city. All Snowdogs have a different look and different personalities. My snowdog Enfys is loving her home on the Hayes. I was so excited to be able to paint something that wasn't flat! I'm used to painting pieces of paper or canvases, but painting a huge dog was something so different and exciting and I hope I get the change to paint something similar soon.
What's the concept behind your Snowdog?
My Snowdog is called 'Enfys'. She is based on my love for Cardiff and her body shows off all of the wonderful buildings in the Welsh capitol. Enfys is also my sisters name, and it's a welsh translation for Rainbow. I tried to put all of the colours in the rainbow on Enfys' body….and much more! I wanted Enfys to be a symbol of happiness and joy. She celebrates Wales and will hopefully make people smile.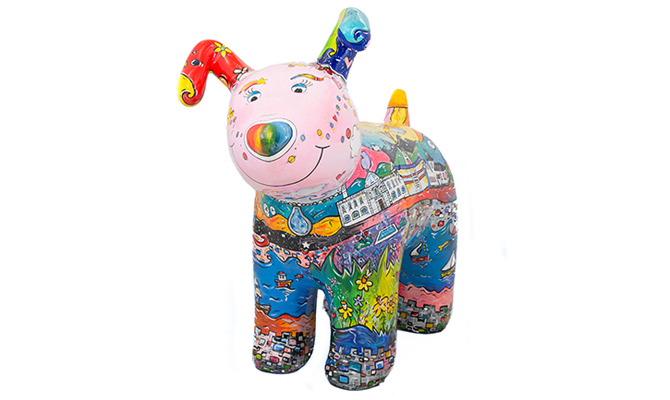 How would you describe your artistic style?
My style is full of fun and character. I try and put my love of Wales into each piece, making sure the designs are as vibrant as possible. I want my work to capture the eye and take people away from their every day lives. I have always loved colour. The more colourful life is, the better!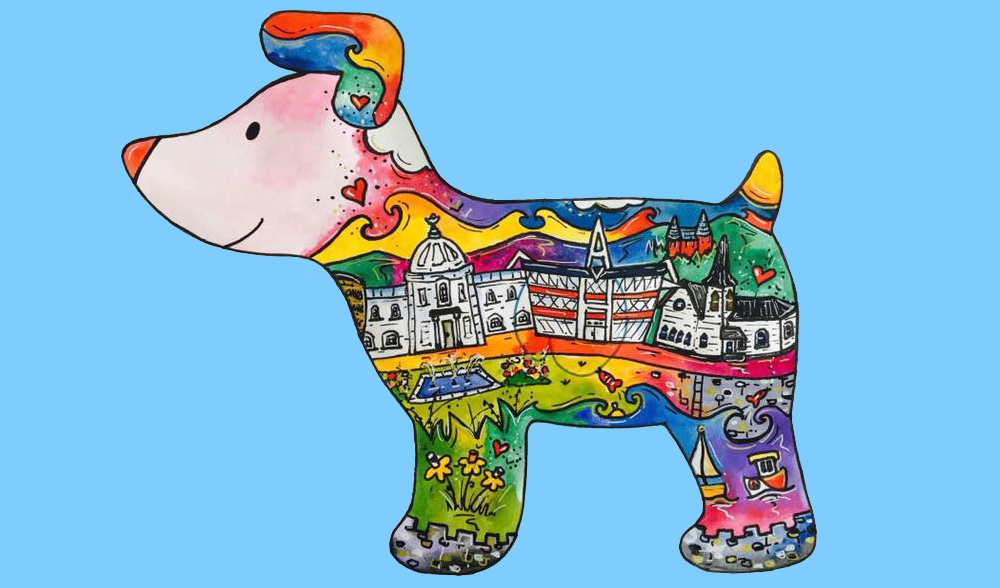 How does the place/city you live influence your image making?
Growing up near Aberaeron I was always surrounded by colourful houses and boats. Living on the coast inspired me on a daily basis. Now living in the bay, I still get inspired by the sea. I also take inspiration from Cardiff – a dynamic and up and coming city with so many different sides to it. Cardiff has such a variety of impressive buildings. It's a pleasure to be able to put so many different types of buildings into one design and make it look like a whole. My favourite building is the Wales Millennium Centre. I love that I live about two minutes away from it!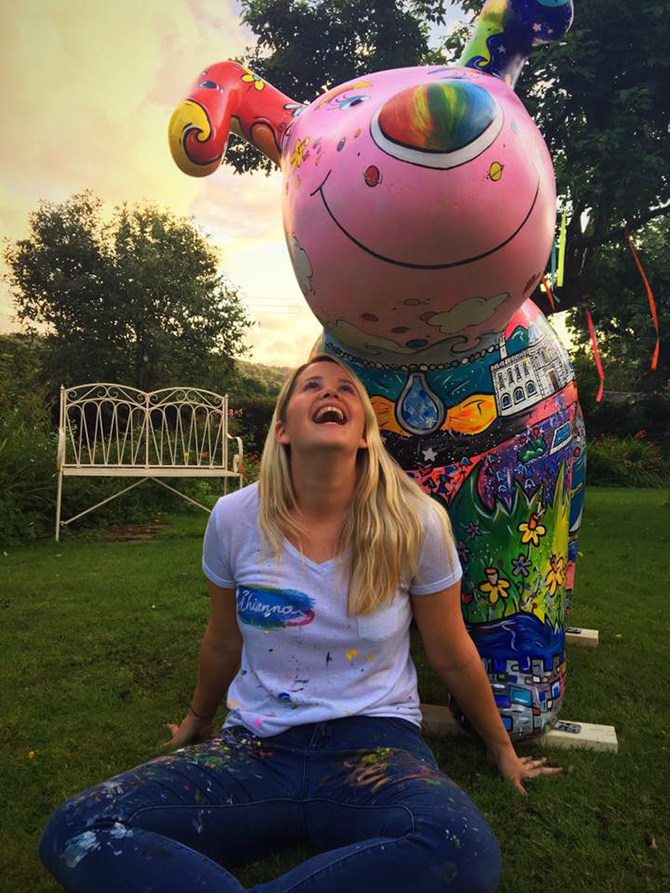 What's your earliest memory of The Snowman and the Snowdog?
It's my dad's favourite film! We used to watch it in front of the Christmas tree every Christmas! In fact, if it's ever on the tv, then I'll watch it. It gives everyone that cosy, christmasy feeling. It's a simple tale, but a special one.
Do you have any painting tips for the Paint Your Own Snowdog?
Go for it! I do a lot of painting work with local schools, and I have realised that most children love painting, but sometimes they are scared to just go for it! This is the same with adults! As you can see with my work, there is no right or wrong! If you want to paint the grass pink, then do it! If you want the sky to be orange, black and blue then go for it! If you want to put flying fish in the sky, then do it! I never hold back. Use your imagination. Think of something you really like. Think about the colours you want to use and then go for it!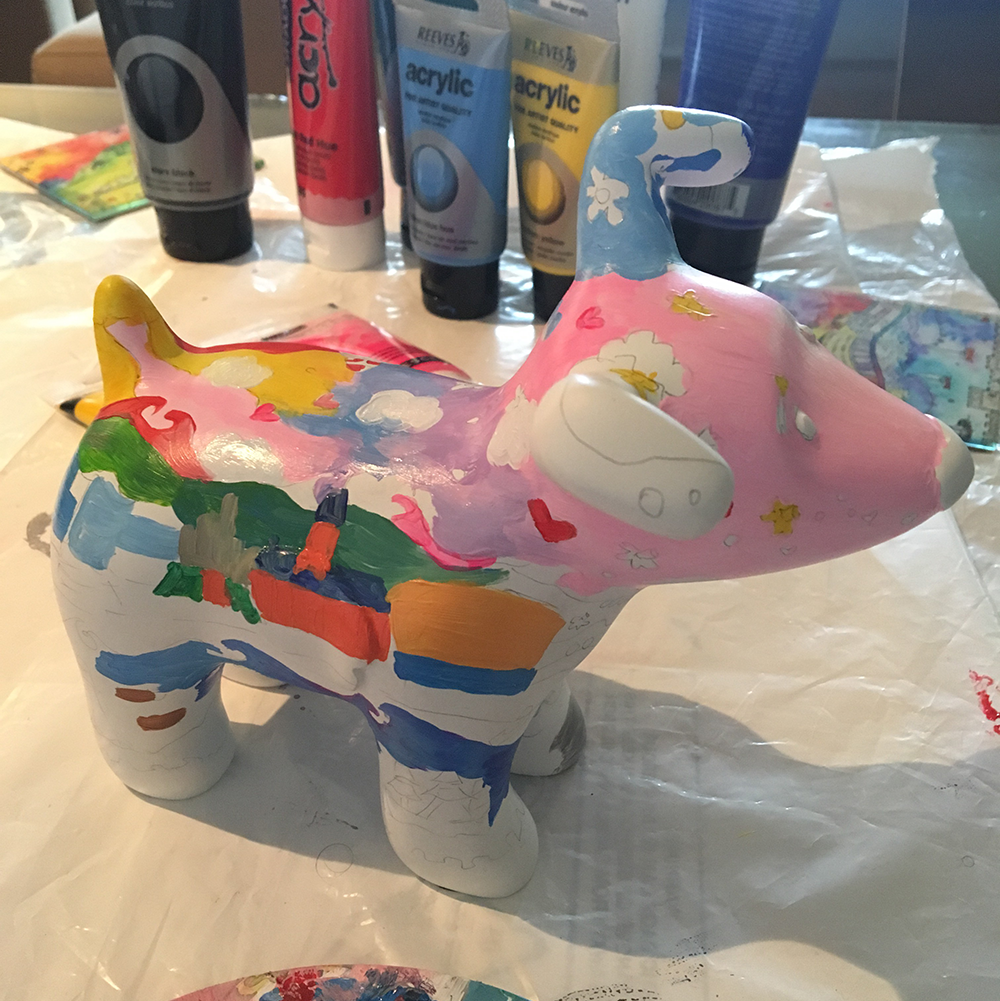 What project are you working on now?
I have the Cardiff Christmas Market coming up. This is a huge event in Cardiff. The Christmas Cabins run for 6 weeks from November 9th to December 23rd. I'm busy building up stock for this and painting new original work. I look forward to Christmas eve when I can put my feet up with a glass of mulled wine!
What advice would you give new artists?
You need to have a good business brain as well as being creative. It's one thing to have a skill, but to market and sell that skill is a whole different ball game! Think about your customers and who your work would appeal to. Make the most of the social media insights. Keep people interested. It's easy enough to lose your creativeness whilst thinking about marketing etc so you need to have a good balance of both. Don't be scared and just go for it! Make sure your style stands out. Being your own boss is the best!